Stormont to vote on whether to exclude DUP's Jim Wells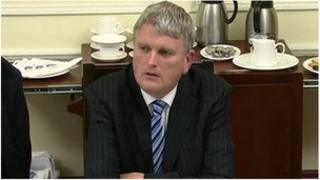 Assembly members will vote next week on whether to exclude DUP MLA Jim Wells from Stormont over comments he made to the Sinn Fein culture minister.
Mr Wells has refused to apologise for critical comments made in the corridors at Stormont to Caral Ni Chuilin and her former special adviser Mary McArdle.
The former assembly standards commissioner decided that Mr Wells had not shown the women enough respect.
Unionists are likely to vote down the proposal to exclude him for a week.
Mr Wells made the comments last year when the controversial appointment of Ms McArdle was in the headlines.
Ms McArdle had been convicted for her part in the shooting of a young school teacher in 1984.
Mary Travers, 22, was shot as she left Mass at Derryvolgie, Belfast, with her father, magistrate Tom Travers. Ms McArdle was sentenced to a life term and was released under the Good Friday Agreement.
She has since left the post and been replaced by Jarlath Kearney, a former journalist who has worked as a Sinn Fein policy adviser.
In two separate encounters last summer Mr Wells made his views known face-to-face and vehemently to the minister and her then adviser.
The row is now moving from the corridors and into the assembly chamber.