West Belfast community worker's home attacked after interview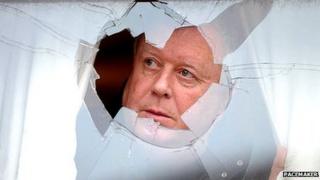 A west Belfast community worker, whose home was attacked minutes after he gave a TV interview about anti-social behaviour, has urged people to stand up to the "hard-core" element responsible.
A breeze block was thrown through the window of Robert McClenaghan's Lower Falls house on Monday night.
Earlier that day a joint initiative between police and community workers was launched to tackle the problem.
Mr McClenaghan said a small group of young people were terrorising the area.
He told the BBC's Good Morning Ulster: "If you were to draw up a suspect list there are 10 or 12 hard-core people there.
"The hard-core are late teens early 20s and then below that they have hangers-on - about 30 or 40 younger ones, some as young as 12 or 13.
"So it's not a big group of hardened criminals, but they're ruthless and we need to stand up against them."
Mr McClenaghan, a member of the Falls Residents' Association who had given an interview to UTV shortly before his home was attacked, said those behind such incidents would try to use dissident republican groups for cover.
"Sometimes they would use the cover of dissident groups, if they thought they were under pressure they would say we are members of... and then a set of initials comes out. But these people represent nobody," he said.
"The people of the Falls have to realise that these people will only be stopped whenever the good people of the Falls stand up.
"It got that bad last year that the supermarkets wouldn't deliver groceries because they were afraid of being hijacked."
Mr McClenaghan's colleague, Carl McKee, said large crowds would gather at night, drink and take drugs.
"These people at that point can't even come out their doors, they're too frightened," he said.
"We have had cases of people being beaten up, people have been mugged as they walk to their home - they're just really causing havoc for people's lives."
Zero tolerance
On Monday, police said they would increase patrols in the area and operate a zero tolerance policy to anyone involved in anti-social behaviour, vehicle crime or any other criminal activity.
Speaking on Radio Ulster on Wednesday, PSNI area commander Chief Inspector Emma Bond said she appreciated that despite what had happened, Mr McClenaghan was still very much behind the police initiative.
"That's exactly what we need, not only from him, but from other members of the community in the Lower Falls," he said.
"We as a police service have gone into this operation realistic about the challenges that we face.
"We never expected or anticipated that we would be able to solve the problem overnight, we know that it's going to take time and that's why it's an operation that we plan to run through Christmas and into the new year.
"Essentially a lot of the success of this initiative will be down to how the community feels, whether they feel they can see a difference, if they're content that they feel safer."