David Tweed trial: 'Woman kept notes'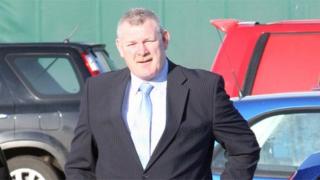 A jury at the trial of a former rugby international accused of sex offences, has been shown handwritten notes kept by one of the alleged victims.
David Tweed, a Traditional Unionist Voice councillor in Ballymena, is accused of abusing two young girls over an eight-year period.
The alleged victims are now adults.
One of them said she started keeping the notes years after the alleged abuse. She said as the memories came back she would write them down.
However, a barrister for the defence suggested that they weren't her memories at all. He said that they resulted from someone else "constantly insinuating" that she had been abused.
The barrister claimed that it was driven into the victim's consciousness and "your memory was corrupted".
The alleged victim rejected this suggestion. She said: "I'm still terrified of him, this was about me taking a step forward."
She added: "I'm not a robot, I'm scared and I cant sleep at night.
The trial continues.