'Lenient' fuel fraud sentences under review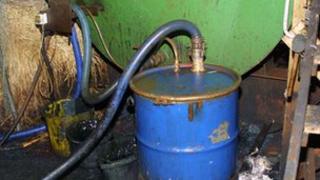 Northern Ireland could soon get the power to appeal lenient sentences in cases of fuel fraud.
It follows talks between HM Revenue and Customs and the Justice Department, which now intends to begin a consultation process on changing the law.
Few, if indeed any, of those convicted in the past decade have gone to prison.
John Whiting, assistant director of criminal investigation at HMRC, said there was "a frustration around sentencing of offenders".
"Some work is being done so that we may have the right to appeal where it is felt a stiffer sentence might have been imposed," he said.
Investigators have dismantled a fuel-laundering plant in Crossmaglen, the 16th raided in seven months.
Two tonnes of toxic waste, the by-product of washing dye from diesel, also had to be removed from farmland.
Earlier this year, a committee of MPs said it was disappointed at the lack of progress on new measures to tackle fuel fraud in Northern Ireland.