Peter Robinson says China mission 'very successful'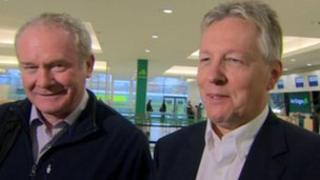 The first minister has said Northern Ireland firms on a trade mission to China have "dozens of leads" to follow up on as a result of the trip.
Peter Robinson and deputy first minister, Martin McGuinness, are leading 35 firms on the six-day visit to Shanghai and Hong Kong.
It aims to promote trade, investment, tourism and encourage research partnerships.
Mr Robinson said the trip had been "very successful".
"All of the companies that we have been speaking to have had considerable interest and have had literally dozens of leads that they have to follow up on when they go back," he said.
Speaking on BBC Northern Ireland's Good Morning Ulster programme, Mr McGuinness said it was "hugely important" that political leaders engaged with an "ever-changing situation in China".
He said there were "increasing opportunities" for Northern Ireland businesses to improve their exports.
"I think there has been widespread acclaim from the business sector for our decision to come here and give them support," Mr McGuinness added.
"The first minister and myself are pledged to come back here in the spring of next year to engage with political leaders.
"It is hugely important that we take up these invitations from what is undoubtedly going to be the most powerful economy in the world by 2015/16."