Willie Frazer steps down from victims' group Fair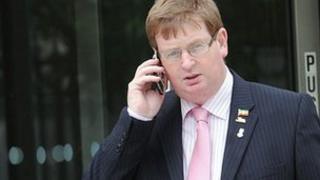 Willie Frazer, the director of a victims' group whose funding has been frozen, has said he is stepping down from his role.
A European funding body wants £350,000 which it gave to Fair returned.
Families Acting for Innocent Relatives (Fair) has also had funding from the Office of the First and Deputy First Ministers stopped.
Mr Frazer said on Friday that he was quitting his post because he did not want members of Fair to suffer.
Fair was founded by Mr Frazer 13 years ago to support victims of republican violence.
Funding from the Office of the First and Deputy First Minister (OFMDFM) has been cut while it has also been told to pay the Special EU Programmes Body (SEUPB) back more than £350,000.
Mr Frazer has denied misspending cash and called the funding cut "political".
There have been three investigations into the activities of Fair.
One carried out by the PSNI has been completed and the Public Prosecution Service has said there will be no prosecution in relation to that inquiry.
Two other probes have been carried out by the EU and OFMDFM. The latter is ongoing.
Speaking on Friday, Mr Frazer said the group had done nothing wrong.
"The decision to go is mine, although the members want me to stay on," he said.
"I don't want the victims suffering, their needs come before mine. I am stepping down but I will still be working in the victims sector."
He said he had seen a copy of a report by the Special EU Programmes Body (SEUPB) but was legally prevented from making it public.
"Questions were asked, but we answered those questions. They didn't put that in the report. I am prepared to put the report on the internet if I am given the go-ahead, there is nothing in the report that justifies the freezing of funding."
In a statement on Friday, a spokeswoman for the SEUPB said they could not discuss the report's findings as they were bound by legal privilege.
"Following a thorough audit of the tendering and administration procedures used by Fair the Special EU Programmes Body (SEUPB) uncovered major failures in the organisation's ability to adhere to the conditions associated with its funding allocation," the statement read.
"The organisation was given every opportunity to respond to and address the issues uncovered in the audit.
"Mr Frazer accepted a copy of the audit report under the terms of strict legal privilege, this remains in place."