Glenavy war memorial damaged in paint attack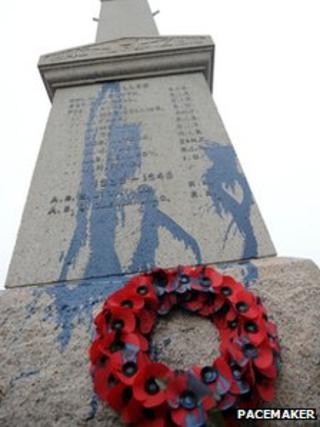 Police are treating a paint attack on a war memorial in Glenavy, County Antrim, as a hate crime.
The memorial and a number of poppy wreaths at Main Street were covered in navy paint early on Friday morning.
Sinn Féin MLA Mitchel McLaughlin said the vandals contributed nothing to society.
"Again we see small minded people putting their energies into attempting to divide society rather than work with people to find common ground," he said.
"These people have been rejected by the people of Glenavy and have only succeeded in wasting people's time."
DUP MLA Trevor Clarke said there had been four previous attacks this year on the Glenavy Protestant hall.
"It is less than a week since Remembrance Day so this callous act shows a complete disregard for the servicemen and women remembered, and indeed is in stark contrast to what our war heroes have achieved," he said.
"These cowards must be brought to justice, because the majority of people in Glenavy have enjoyed relative peace over the years and no-one is interested in a wedge being driven between communities during peace times in Northern Ireland."
SDLP Lisburn Councillor Pat Catney said he was "disgusted" by the attack.
"This will not stop the good work being carried out by political parties, community groups and the police in a bid to properly tackle hate crime in the area," he said.
"Those responsible are totally ignorant of the fact that the war memorial in Glenavy commemorates the First and Second World Wars.
"It doesn't commemorate any other conflict and it certainly doesn't commemorate or oppose whatever conflict these people think they are engaging in."