Joe Brolly: failed transplant a 'miserable' end to 'amazing' experience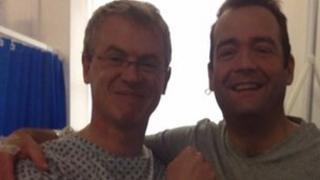 The former Derry GAA player, Joe Brolly, who donated a kidney to his friend has said it was "agonising" to hear the transplant had failed.
He donated his kidney to Shane Finnegan last month but nine days later it was removed after medical complications.
Speaking to RTE radio, Mr Brolly said his only concern was for his friend, adding it was a "miserable" end to what had been an "amazing" life experience.
He added that he was now trying to find another living donor for Mr Finnegan.
'Distraught'
The operation was carried out in Guys Hospital in London on 3 October and initially appeared to be a success.
However, Mr Brolly said he found out that the transplant had failed days later in a phone call from his friend's "distraught" wife, Catherine Finnegan.
"It was such a miserable finale to something that has been so exultant," he told RTE's Marian Finucane programme.
"I mean, obviously it's a miserable situation for me, but for Shane's family and for Shane - this was it. Everything has been so good and the experts were agreed that this was the best possible situation for them in advance.
"Everything had gone so well for the physical transplant and then for such a small thing to destroy it all was very agonising," Mr Brolly said.
He told the programme that he offered to donate the organ after Mr Finnegan became ill during a GAA training session and revealed that he was suffering from kidney failure.
The pair both coach an under-10 team at St Brigid's GAC in south Belfast, and their children play on GAA teams together.
'Euphoria'
However, Mr Brolly said that when he made the offer he had known Mr Finnegan for "maybe three or four months".
"But only as a coach you know? Not socially or anything," he said.
The father of five said he never had any doubts or even "a moment of anxiety" after making the offer to become a living donor.
"I would have been devastated if I'd been told at any stage, 'no look, this isn't going to work, you can't do this'," he added.
Mr Brolly said the atmosphere in the hospital unit he shared with Mr Finnegan after the transplant was "life-affirming" and one of "euphoria".
'Urgent'
"Shane was beside me in the next bed at that stage and you could see him basically rejuvenating before your eyes," he said.
"There was a sense of absolute elation that I've never experienced before," the former All-Ireland winner said.
However, as the days past he said the tone of the doctors treating Mr Finnegan became "more urgent" and he knew something was going wrong.
"You could feel that they were starting to lose control over the situation," Mr Brolly said.
Asked how the failure of the operation had affected him on a personal level, the GAA pundit said: "It wouldn't be true to say I'm broken-hearted, I'm desperately disappointed for Shane."
He told the programme he was very concerned for his friend's future health and said he was now helping in the search for a new living donor.
'Superb'
"Without betraying any confidence, two people have already gone in to be tested in Belfast and another person is coming to see me next week.
"They've all asked to have their anonymity protected but two of them are from very strong GAA backgrounds, and obviously the GAA community has been superb - they've rallied around us".
Mr Brolly said the majority of living organ donations were very successful.
Mr Finnegan, who works for a Belfast public relations firm, had been waiting for a transplant for over six years.