Organ donor series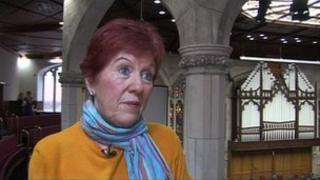 For those who have experienced loss and for those who have gained through it, the Special Service of Remembrance and Thanksgiving at the Spires Conference Hall in Belfast was an emotional day.
Held every three years, the service on Sunday was attended by about 1,000 people and included a special floral tribute between donor families and transplant patients.
For Alison Crutchley, it was particularly poignant. Her son, Gregory, was killed 10 years ago in a car accident. The service was held on the eve of the anniversary of his death.
"Gregory was very lucky in that they were able to look after him for two days in intensive care which enabled him to donate all his organs. And they're all still going to this day," she said.
"So we're very proud of Gregory and we think he's wonderful and this is a very important day.
"It's a day all the families come together to thank each other and give flowers and just be nice to each other and hear wonderful stories which is really fabulous when you think of what can be done today.
"Gregory saved a man in Birmingham - he has his heart - he saved two people in Lisburn who have his kidneys, he saved a girl in Liverpool with his liver."
Eleanor Boyce, donor services team manager for Northern Ireland said it was a very personal thank you.
"A very special part of the service is a floral tribute and those people who have received a transplant bring a small gift of flowers," she said.
"They give them to the co-ordinators at the front of the hall and then, once they have returned to their seats, the donor families come forward and we give the flowers to the recipients.
Floral tribute
"Transplant recipients often feel overwhelmed at the thought that someone has died to give them an organ or, in the case of a live donor, feel overwhelmed that someone would do something for them.
"There are very few ways that you can actually say thank you for that so this service and the floral tribute give a tangible way of actually saying thank you for the gift of life."
One of those who spoke at the service was Kay Johnston. She received a heart transplant 14 years ago and it was the first time she has attended.
"By the time I needed to transplant I was really, really unwell," she said.
"I couldn't eat a meal without feeling sick, I couldn't drive, I couldn't walk for more than 20 metres at a time. It took me an hour and a half to get up in the morning and then I was so tired I had to lie down again.
"I was allowed only to drink a litre of fluid in a whole day and I used to fantasise about cold pints of beer but I wasn't allowed anything like that."
Kay said the transplant was difficult and she was very ill afterwards but since then she has been able to lead a full and active life.
"I've been able to resume my job as a teacher, I have climbed Slieve Donard, I have been on walking holidays, which I love doing, and I've met my nieces and nephews who have been born since the transplant and so it has been fantastic," she said.
"I'm so grateful to my donor who signed that card."