David Tweed trial hears arrest police transcripts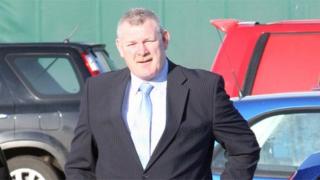 The trial of a former rugby international accused of abusing two girls has heard extracts from police interviews at the time of his arrest.
David Tweed, a councillor in Ballymena, denies sexually abusing the two girls over an eight-year period.
Mr Tweed was arrested over the charges in December 2010.
On Monday, transcripts of police interviews with him at the time of his arrest were read to the court.
In them, Mr Tweed, who played rugby for both Ulster and Ireland, said he was shocked by the allegations.
When asked why he believed they had been made he said: "I can't believe it".
As details of the allegations were put to him he repeatedly denied them saying: "It never happened."
The trial continues.