David Ford: No deal to end Maghaberry dirty protest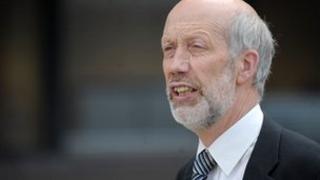 The prison service insists it has not entered any deal with 22 dissident republican prisoners at Maghaberry jail who have ended a dirty protest.
"There has been no deal and no negotiations," said justice minister David Ford.
"The first I heard of this decision was last night."
Republican sources also say no deal has been struck and that the decision by the prisoners to end the dirty protest is a unilateral move they hope will clear the way for electronic scanners to be used instead of strip searches.
A scanner is currently being tested at Magilligan Prison near Limavady, while another is being tested at Hydebank Wood prison in south Belfast.
Mr Ford has said a scanner could be installed in Maghaberry if the trials are successful.
Republican sources say it is hoped this move will make that easier to do.
It's understood the prisoners believed it would be difficult for the minister to install a scanner if their protest continued as that would appear to be a concession.
The thinking is that ending the protest removes a potential obstacle to technology replacing strip searching.
The trials at Magilligan and Hydebank are considered a success, and a decision about the possible use of a scanner in Maghaberry is expected shortly.
Mr Ford said: "The technology we are looking at for Maghaberry is something which would be a first in these islands so there is a lengthy process that has to be gone through, but a lot of good work has been done by the prison service over recent weeks and I hope we will be able to make progress in the next few weeks."
Those who have ended the protest are aligned to a group calling itself the IRA, which was formed during the summer.
Members of other dissident groups in Maghaberry were not consulted about the move and remain on protest.
A team of four mediators, two appointed by the minister and two others previously engaged in negotiations with dissident republican prisoners, are expected to meet those who have ended the protest in the near future.