Organ donor series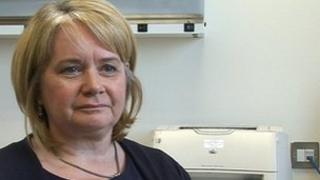 Up to March this year, there were 222 people on the transplant waiting list in Northern Ireland.
The majority of them are waiting for kidney transplants, the next highest is for liver, followed by lungs.
In 2006, the UK had one of the worst records for organ donation in Western Europe.
In February 2010, the Northern Ireland Organ Donation Services Team was established, allowing specialist nurses to be embedded within intensive care units here.
Since then, there has been a 100% increase in donation rates for Northern Ireland.
Mary McAfee is one of those specialist nurses and works at the Causeway Hospital in Coleraine.
She has the difficult task of approaching families when their loves ones have been declared brain dead. She said it was very important people tell their families their wishes.
"Usually, 95% of families will consent whenever I ask them about donation if it has been established that person would like to be a donor after their death," she said.
"The consent rate falls to about 55% when the families don't know whether their loved ones wanted to be a donor or not.
"It is always very difficult because most of these patients die in quite sudden circumstances and the families are usually not prepared to be asked about the option to consider organ donation.
"That is why we would encourage people reading this to have that conversation with their families about whether they would they want to donate."
In Belfast's Royal Victoria Hospital, Dr Neil McDougall looks after patients on the liver transplant list.
"There is a lot of ignorance about what happens and there is still the old wife's tale about people worrying if someone is actually dead or not before organs are taken," he said.
"No matter how many times we explain that, people still hold onto these ideas, so I think education is crucial - making people aware of the fantastic outcomes we can achieve with organ donation.
"The waiting list for transplantation is a problem.
"For liver transplants the wait can be as much as 18 to 24 months and then, unfortunately, there is a death rate on the waiting list of perhaps as many as 15% of people.
"They will die while on the waiting list for an organ and that is purely due to a shortage of organs."
In spite of this figure, Dr McDougall said patients were hopeful and grateful.
"The general feeling that we get from patients is that they are aware they are being given a second chance and many are grateful even just to have the opportunity to be on the waiting list, even if that opportunity doesn't come," he added.
One deals with death, the other deals with the possibility of life after it. But both have one clear message.
Nurse McAfee said: "Organ donation can ultimately save the lives of up to nine people and the majority of families who do choose to donate usually get great comfort from their decision.
Dr McDougall added: "There's a huge amount of pleasure that can be derived from the knowledge that something good has come of a tragedy, so I think there are a lot of positives to organ donation.
"But simply you just have to ask yourself if you would want that service yourself, you must make it available to others."