Northern Ireland pay rises by 1.6%, survey says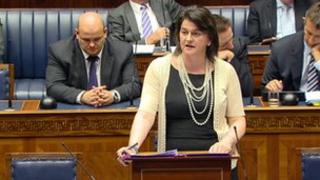 The gross weekly earnings for Northern Ireland employees increased by 1.6% over the year, according to the annual survey of hours and earnings (ASHE).
This compares to earnings in the UK, which increased by 1.3%.
Northern Ireland full-time weekly private sector earnings increased by 2% over the year compared to 1.5% in the UK.
The median gross annual earnings for full-time employees in NI grew by 4.2% to £24,011 in 2012.
This compared to 1.4% growth in the UK to £26,462.
Northern Ireland enterprise minister Arlene Foster said it was pleasing to note that gross weekly earnings had increased over the year to April 2012 at a slightly higher rate than in the UK.
"Whilst this is encouraging it is recognised that in order to reduce further the pay gap that exists between Northern Ireland and the UK, as well as promoting economic recovery, the private sector requires more highly paid jobs," she added.
"Supporting the economy in Northern Ireland to enable a move towards more productive and high paying jobs remains a key priority for my department and Invest Northern Ireland.
"This can only be achieved by continuing to make Northern Ireland an attractive place for investment and improving our export performance.
"This in turn depends on increasing productivity, competitiveness and innovation along with a sound skills base."
The ASHE is a UK wide survey of employers based on a 1% sample of employee jobs.
It is drawn from HM Revenue and Customs Pay As You Earn (PAYE) records.