Millie Martin trial: Mother sobs during court questioning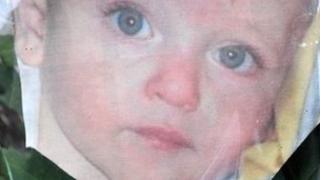 The mother of Millie Martin has broken down in the witness box during the trial into the toddler's death.
Rachael Martin is accused of allowing the death of 15-month-old Millie in 2009, which she denies.
A prosecution lawyer suggested that the signs of abuse were there and she had missed every one of them.
She sobbed as she said: "I have to live with this for the rest of my life, without seeing my daughter growing, and never hearing the word mummy from her."
Ms Martin's former partner, Barry McCarney, denies murder, sexual assault and assault occasioning actual bodily harm.
She alleged what her former partner Barry McCarney had done had "wrecked her whole life" and never in her "wildest dreams did she think that anyone could have been capable of doing that to a child".
Millie died in the Erne hospital from head injuries and when doctors examined her they discovered she had also been sexually assaulted.
Thursday was the fourth day in the witness box for Ms Martin.
She told the court she did not know Millie was being abused saying "it was the last thing on my mind".
A prosecution lawyer suggested to Ms Martin, "it was staring you in the face, what was happening to Millie".
Ms Martin was taken through the injuries Millie had suffered before her death, but said that, apart from seeing her daughter hit her ear on a chair, her other bruises were "unexplained".
'Hindsight'
Ms Martin also described how Millie's behaviour changed leading up to her death.
"She cried coming up into the driveway and I thought she didn't like the house any more," she said.
Under cross-examination from the prosecution she was asked if it did not trigger anything that Millie did not cry when she got an injury but cried when she came back to the house.
"If it would have triggered anything at all Millie would still be here," she replied. "I just thought she didn't like the house anymore."
"That was probably right, wasn't it?" the lawyer asked.
Ms Martin also said Millie had begun to cry whenever she said good night.
The prosecution barrister asked: "Do you accept now that she was obviously afraid. Afraid of what was going to happen to her. You didn't pick that up?"
"I wish I did," she replied. "Hindsight is a great thing. I just wished I knew what was going on."
She said it was only when they were told at the hospital that Millie had been "improperly interfered with" that she started putting everything together.
"In your mind who did that?" the lawyer asked.
"Mr McCarney," she said.
Neglect
When she received the telephone call telling her to go to the hospital because Millie had stopped breathing the lawyer asked: "Did you say to yourself I knew this was going to happen. Barry's gone too far this time?"
She said at that stage she believed that Millie had had a fit and Mr McCarney was doing everything he could to save her.
Ms Martin described her former partner as a "monster" and said the only guilt she felt was for letting Barry McCarney into her house.
She said Mr McCarney had experience of his own two children: "He portrayed himself as a loving father. He appeared to love and care for Millie.
"I had no reason to doubt him. If I had he would not have been in our lives."
The prosecution barrister said she faced a charge of cruelty involving the wilful neglect of her daughter.
"You didn't do what you should have done," he told Ms Martin.
"I didn't know I had a monster in my house," she said.