Belfast council committee votes to take down Union flag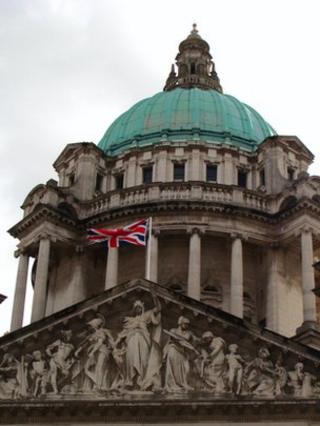 Belfast City Council's policy committee has recommended that the Union flag no longer fly over the City Hall.
A motion to remove the flag was passed at a meeting of the policy and resources committee on Friday.
The committee also backed the removal of the Union flag at two other council properties, the Ulster Hall and the Duncrue complex.
For the motion to take effect the decision must be ratified by the full council on 3 December.
Currently the flag is flown every day over the City Hall.
The Ulster Hall is in Belfast city centre and the Duncrue complex is a cleansing depot and vehicle service area in an industrial estate in north Belfast.
The motion to remove the flag was backed 11-9.
Sinn Fein councillor Jim McVeigh said that a civic flag was a possible alternative and that Belfast was "not as British as Finchley".
"For a long time now we have been advocating no flag flying or a neutral one," he said.
"The status quo won't continue, that's for sure."
The DUP's Lee Reynolds said his party would be trying to persuade the Alliance Party to block the move at the full council meeting.
He said the flag should be flying for 365 days a year.
"It is common practice across Northern Ireland and Great Britain and across the world, we're not asking for special treatment," he said.