Fermanagh Coolaness care home to close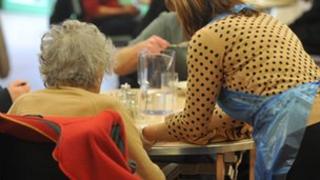 The owners of a care home in County Fermanagh have said that it will close.
Coolaness Care Home at Irvinestown has 20 residents, but can take up to 32 people.
The owners, Four Seasons Healthcare, said it will shut as soon as alternative accommodation has been found for them.
Four Seasons said they have to close Coolaness because it was not possible to carry out necessary modernisation.
The home was the subject of a regular inspection by the Regulation and Quality Improvement Authority last May, as a result of which a number of recommendations were made for repairs and refurbishment.
Concern about the closure has been expressed by the Fermanagh branch of Parkinsons UK.
Staff
Secretary Myrtle Hephil said Coolaness provided good care especially for people with Parkinsons.
"It's very important that the get their medication on time half an hour's delay can make a lot of difference and the people at Coolaness were very good at that," she said.
"It's caused a lot of upset. I was speaking to a man this morning who has to try to find somewhere else for his wife now and she needs a room with an en-suite, it's not every place that will have that."
Four Seasons said the existing building was unsuited to modernisation and that there were planning issues which meant they could not rebuild on the same site.
In a statement it said they would also try to offer some staff the opportunity to relocate from Coolaness to other homes.