Conor Murphy will not apologise over discrimination case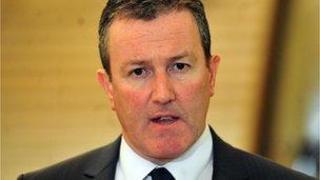 The former Sinn Fein Regional Development minister has said he does not owe an apology to a man overlooked for the job of chairman of NI Water.
Alan Lennon won a discrimination tribunal case against the department.
It ruled he had been overlooked because he was a Protestant. He has accepted £150,000 in compensation.
Conor Murphy said that the current minister, Ulster Unionist Danny Kennedy, should have appealed the tribunal's finding.
"Dr Lennon was not discriminated against. I stand very clearly over the appointments I made," he said.
"The legal opinion which looked at that tribunals findings supported my view that he was not discriminated against."
He said that he had ignored the advice for "party political reasons".
"Danny Kennedy had the ability to appeal, he was given very firm legal advice," he added.
He said the had concluded an appeal would have "a reasonable chance of success".
Mr Kennedy had said that he decided success was "uncertain at best" and that "enough money had been spent contesting the case".