Peter Robinson: Irish cross-border relations 'have never been better'
By Mark Simpson
BBC Ireland Correspondent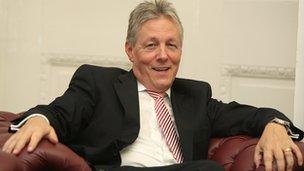 Northern Ireland's First Minister Peter Robinson has said Irish cross-border relations have never been better.
The Democratic Unionist Party (DUP) leader was speaking ahead of his keynote speech to his party's annual conference on Saturday.
Mr Robinson said he regards the Irish Republic as "good neighbours" rather than a threat.
On Friday, an Irish government minister was invited to the conference for the first time.
Speaking after the Republic's Agriculture Minister, Simon Coveney, addressed the DUP, Mr Robinson said: "The very fact there was no fuss or fanfare would indicate that normalisation has taken place.
"Our position within the United Kingdom is not under threat - we feel confident and secure within the union and we want to have the best possible relationship with our neighbours," the first minister added.
The DUP is the biggest party in Northern Ireland and the fourth largest at Westminster.
It is in a position of strength, and confident enough to have friendly relations with people once seen as enemies.
The decision to invite a member of the Irish cabinet to speak at this weekend's party conference is the latest sign of changing times in Northern Ireland.
When Ian Paisley founded the DUP 40 years ago, the party's attitude to co-operation with the Irish government was, to use his own phrase, "never, never, never".
The peace process has transformed cross-border relations.
Nonetheless, the current DUP leader Peter Robinson will tell his party's conference on Saturday that he sees Northern Ireland's future firmly within the United Kingdom.