Ex-Alliance Party councillor Adam Harbinson at DUP conference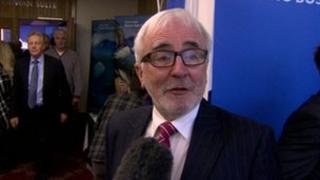 An Alliance Party councillor in North Down who resigned from the party on Friday night has attended the DUP conference.
Adam Harbinson said he was thinking of joining the DUP but had not done so yet.
He said he had quit Alliance because of its support for gay marriage.
Mr Harbinson failed to get elected at the last local government election, but was subsequently co-opted onto North Down council by the party.
He told the BBC that they should not read too much into his attendance at conference, but admitted he was thinking of joining the party.
He sat in a prominent seat in the front row at the conference beside North Down assembly member Peter Weir.
Although DUP leader Peter Robinson did not refer directly to him in his speech, he said that his party had gone from strength to strength by welcoming in those who shared its outlook and values.
He added: "Let me say tantalisingly, we're not finished yet."
Alliance has called on Mr Harbinson to resign his seat on North Down council.
Councillor Andrew Muir said: "We are all rather astonished that Adam has decided to leave the party and is considering joining the DUP merely eight months after being chosen to replace the late Alliance Alderman Tony Hill.
"Adam has no moral authority to retain the council seat won by Tony Hill and the Alliance Party.
"Adam communicated his decision to leave the party via email stating 'if a man does not have integrity he has nothing'.
"We therefore call upon him to demonstrate such integrity and allow the Alliance Party to select a new person for the seat."
In September, the Alliance Party voted in support of legislation to allow gay civil marriage.
Party leader David Ford said the vote followed months of consultation with party members and associations.
He said the proposals included safeguards for religious groups so they would not be forced into allowing their premises to be used.