Sinn Fein's Conor Murphy may be witness in High Court libel case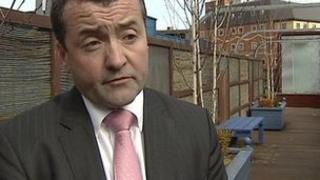 Sinn Fein's former minister for regional development, Conor Murphy, may be called as a witness in a libel case involving the party.
On Monday, a jury was sworn in for a libel case brought by Declan Gormley whom Mr Murphy sacked from the board of Northern Ireland Water in 2010.
Mr Gormley has brought the case against Sinn Fein, Newry and Armagh MLA Cathal Boylan and former MLA Willie Clarke.
The seven-person jury is due to begin hearing evidence on Tuesday.
The case in the High Court is scheduled to last five days.
The jury was told that Mr Murphy and the former Belfast Lord Mayor Niall O Donnghaile could be called to give evidence. The legal action has been taken over the contents of press statements.
Mr Gormley was dismissed along with three other board members by Mr Murphy. They were sacked following an investigation into how contracts were awarded.
Mr Gormley denies any wrong-doing.
He has issued libel proceedings against Sinn Fein, the party's Newry and Armagh MLA Cathal Boylan, and former assembly member Willie Clarke.
At an earlier hearing, it was established that no member of any political party would be allowed to sit on the jury and anyone who worked at the government-owned company would also be excluded.
Members and staff on the Stormont Public Accounts Committee (PAC) are also to be excluded from the jury as a PAC report is expected to be a key issue in the case.