David Tweed trial jury told to deliberate with 'open minds'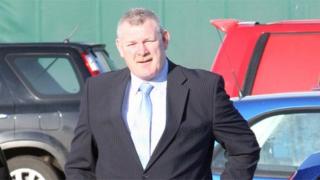 The judge in the trial of a Ballymena councillor accused of sexual abuse has told jurors to approach their verdicts "with an open mind".
David Tweed, a former rugby international, is accused of abusing two young girls who are now adults.
David Tweed denies abusing the two young girls over an eight year period.
The judge told the jurors to make their decision on the evidence they had heard.
He told the juror to approach their decision clinically and to clear their minds of any sympathy they have for people who claim to be victims of child abuse.
"You must approach your task rationally, logically, clinically and dispassionately" he said.
"If there's a real possibility he is not guilty than you must find him not guilty," he said.
He told the jury of ten women and two men to try and reach a unanimous verdict on all 14 counts including gross indecency, indecent assault and inciting gross indecency.
They are expected to rise on 27 November to consider their verdicts.