130 electric car charge points for NI but will anyone use them?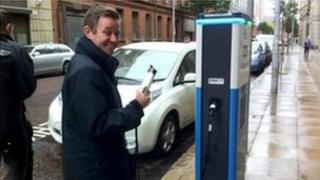 Without the infrastructure, it'll never catch on.
But building the infrastructure costs lots of public money at a time when there appears to be little demand for it.
That is the challenge facing Northern Ireland's e-car team and the Department of Regional Development which has bought into the project.
In September, I took a fully electric Nissan Leaf for a week-long test drive.
My conclusion was that unless the hefty price came down and the limited range went up, it was really only something that suited a well-off city family.
Forty standard charge points have been put up in towns across Northern Ireland.
About £2m has committed to introducing them and another 130 charge points by March of next year.
But statistics from the Department of Regional Development seem to show that there does not appear to be the demand for that kind of investment.
It produced figures showing how often the existing 40 charge points had been used in August and September this year.
Sixteen of the on-street standard chargers had not been used at all. Another 13 had only been used once.
There are seven charging stations in Londonderry. Only one had ever been used, according to the statistics.
The most heavily used charger was at Adelaide Street in Belfast which was used 15 times during that period.
Impressive you may think, until I tell you it is right outside the Department of Regional Development's headquarters where the e-car project is based and they charge their electric vehicles there.
Part of the problem may be that the standard chargers are not really that useful. It takes up to three hours to charge the car from empty. It simply takes too long.
The four rapid chargers in Dungannon, Maghera, Portrush and Newry showed heavier usage in the three months for which the figures were produced.
They will give you 80 per cent of the battery in 20 minutes, far more convenient.
And Newry, it would appear, is the e-car capital of Northern Ireland. The rapid charger there was used 28 times in the three months between July and September this year.
But the real problem is that not enough people own electric cars at the minute. In September there were 17 electric cars in private ownership in Northern Ireland.
The e-car team say there are now 40 vehicles on the road including those run by councils, hospital trusts and other public bodies and private companies.
They also say the technology is improving so that the cost of the cars and the charging time will come down and the range of them will improve.
And that is why they believe it's necessary to have the infrastructure in place, to meet a demand that will grow slowly as the idea of electric cars take hold.