Millie Martin murder: Toddler victim of 'vile abuse'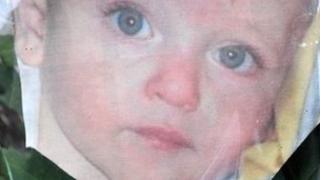 The prosecution in the Millie Martin trial has said that the toddler was the victim of "vile, sadistic abuse" that culminated in her murder in 2009.
The barrister said Barry McCarney, who denies murder, had not given evidence and had failed to answer questions in a case that "cries out for explanation from him".
"Instead he has chosen silence," the barrister said.
He said Millie suffered non-accidental injuries over a 10 week period.
He asked if it was coincidence that this was when Barry McCarney had installed himself in the Martin household.
He said Rachael Martin had failed to protect her own daughter.
He said she did not need hindsight but she needed to "open her eyes and see what was going on in her own house with her own daughter."
'Cruel'
He said the suggestion that Rachael Martin had sexually abused and killed her own daughter was "nonsense".
He told the jury: "Millie's life was short, sad and cruel. Do justice for her".
In her closing statement Barry McCarney's barrister said it was their case that Rachael Martin had assaulted her own daughter.
She said she had failed to seek medical help for Millie's injuries. She said Miss Martin knew exactly what was going on but didn't want attention drawn to it.
"She didn't want the doctor, the social services involved not because Mr McCarney was doing these terrible things with her permission, but that she was doing these things herself."
Barry McCarney's barrister said her client had been presumed guilty from 11 December 2009 when he was arrested.
She questioned the police investigation and said that as soon as they believed Millie had been sexually assaulted they arrested Barry McCarney.
She said the basis of the case against him was that the "police say it was him, the prosecution say it was him".
She said the prosecution case was: "We say it was you so why don't you come into the witness box and prove you were innocent" but added: "That is not how the criminal justice system works."
An accused person does not have to give evidence and cannot be convicted on the basis of suspicion or inference she said.
She said there was "not a scrap of forensic evidence" even though "no stone had been left unturned" and that there was "zero" to put before the jury.
She described Rachael Martin's behaviour at the Erne Hospital after being told her daughter had been abused and only had a 5% chance of survival as "bizarre".
She said the rage in any parent who had been told their child was at death's door would have have been obvious when the only person they thought responsible was the man she had brought into the house.
Yet it was "beyond the bounds of human understanding" that she would have sat in a car with him for the 90 minute journey to the hospital in Belfast, the court heard.
"The only explanation was she knew perfectly well that he hadn't done it," she said.
She described discrepancies in Rachael Martin's evidence about the amount of time she had been out of the house leaving Millie alone with Barry McCarney as attempting to give a "bigger window of opportunity" to suggest Mr McCarney inflicted the injuries.
Mr McCarney's barrister will continue her closing statement on Thursday before Rachael Martin's legal team address the jury for the last time.
Barry McCarney, denies murder, sexual assault and assault occasioning actual bodily harm.
Millie's mother, Rachael Martin, has denied allowing her death.