Claudy teenager wins apprentice award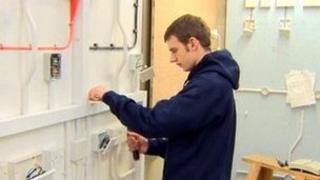 A teenager from Claudy has seen off stiff opposition to win a coveted UK award for the best electrical apprentice this year.
It is the second year running a student from the North-West Regional College campus in Limavady has won the award.
William Falconer was competing against dozens of students during three days of practical competition to find the best electrical apprentice in the UK.
William said he was proud as it had been a hard competition.
Lecturer Keith Wade said more young apprentices must have an opportunity to enter the workplace.
"A problem we find year in, year out, is that employers are struggling with insurance," he said.
"They're keen to take fellas out to give them the experience they need to qualify, but it costs them so much from an insurance point of view.
"Maybe the department or government should be looking at giving some incentive to employers to take our young people out."
William Falconer has now secured an apprenticeship with an electrical contractor.