Obesity study finds weight problems cost NI economy more than £1m a day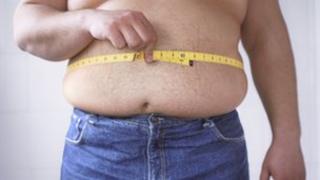 Obesity and weight-related diseases could be costing the Northern Ireland economy more than a million pounds a day, according to a study by Safefood.
It funded research which found that the estimated annual cost of dealing with the issue in NI is £370m a year.
It said about 25% of the total (£92m) was direct healthcare costs, including hospital, GP and drug treatment.
Indirect costs, such as absenteeism and lost productivity at work, accounted for the remaining 75% (£277m).
Safefood is a cross-border body, responsible for promoting food safety and healthy eating on the island of Ireland
Its research was led by a team from University College Cork (UCC) but involved academics from five institutions, including Queens University in Belfast (QUB).
'Compelling'
The team studied 18 weight-related medical conditions, including cardiac disease, type 2 diabetes, cancer, stroke and lower back pain.
They found that cardiac disease was the most expensive to treat - accounting for 44% of direct healthcare costs associated with weight problems - while back pain was the biggest cause of workplace absenteeism.
Dr Marian Faughnan, chief specialist in nutrition at Safefood, said: "This is the first time in Northern Ireland we've had reliable, up-to-date, local information on the cost of both (being) overweight and obesity on our economy."
She said the figures "really highlight the need to implement" the existing strategy aimed at tackling obesity in Northern Ireland.
"The actual cost of doing nothing at this stage is going to be much greater than taking action," Dr Faughnan added.
Safefood's chief executive, Martin Higgins, said: "While it is acknowledged that these are conservative figures and don't reflect the human and social costs, they show a compelling case for obesity prevention, based on changes in our food environment and physical activity levels."
'Market failure'
The lead researcher, UCC's Professor Ivan Perry said the findings of the report highlighted the "extent of societal involvement in diet and health and the limitations of approaches which emphasise the role of personal choice, responsibility and market forces in relation to diet and health".
He said the "current obesity epidemic in children and adults represents a clear example of market failure" with taxpayers having to pick up the bill for healthcare and other costs.
Prof Perry added: "The food sector is currently regulated to ensure food safety. Policy makers need to consider whether there is a need to extend this regulatory framework to address the effects of diet on health and wellbeing."