More Northern Ireland people 'seeking debt help'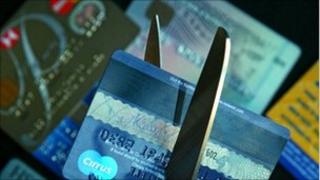 A debt advice service has reported a significant increase in calls for help from people who have found themselves in debt.
Advice NI said it received 270,000 requests for help in the last year.
It said it had helped more than 2,200 clients deal with £55m worth of debt - an average of £25,000 per client.
In its annual report, Advice NI said its advisers are reporting an increase in personal debt and a significant rise in the number of requests for help.
Advice NI has 69 offices across Northern Ireland, employing 185 advisers.
Chief executive Bob Stronge said that almost half of those seeking advice were homeowners, while 43% were suffering from mental health issues.
"Every day our dedicated advisers see the human impact of the continued economic downturn with debt levels rising, concerns over welfare reform growing and more and more people being affected," he said.
"For example, in the last year we dealt with an increase of 7% in demand for our Debt Action NI service, with 2,200 people with nearly £55m of debt being helped through a difficult situation.
"Looking forward, we have serious concerns regarding the spread of 'pay day loans' and a worrying lack of understanding of the new welfare system, by those on whom it will impact most.
"That's why we are calling on the executive to include a statutory right to free independent advice for all those affected by the changes, so that people can find their way through these changes without being adversely affected.