Conor Murphy attends Declan Gormley defamation hearing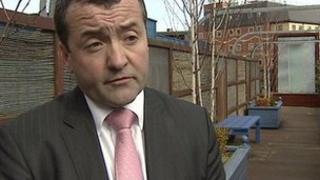 A Sinn Fein MP has come face-to-face in a courtroom with a man he sacked from Northern Ireland Water and who is suing the party for defamation.
Conor Murphy could be called as a witness in the case arising from his time as Regional Development Minister.
The Newry and Armagh MP attended the hearing for the first time on Friday.
Dismissed director Declan Gormley told the court he was not happy his sacking had become "a political football" between the SDLP and Sinn Fein.
Mr Gormley was giving evidence for the third day at Belfast High Court.
Sinn Fein is defending the case on the basis that two allegedly defamatory press releases were a response to previous attacks on Sinn Fein and Mr Murphy by the SDLP - in particular its MLAs John Dallat and Patsy McGlone.
They accuse Mr Gormley of involvement and he spent the day being cross-examined by Sinn Fein's lawyer.
The lawyer stated: "The SDLP were making a political issue out of your dismissal."
Mr Gormley responded: "I cannot speak on their behalf. I have no difficulty with Mr Dallat, Mr McGlone or anyone else fighting my corner.
"If you are suggesting I was happy for my dismissal to be a political football, the answer is no. All I wanted was an acknowledgement this was wrong. I had nowhere else to go."
Mr Gormley said he turned to 14 MLAs from all parties in his campaign to clear his name, after Mr Murphy refused to meet him.
Mr Murphy watched from the public gallery along with other party figures, including councillor Willie Clarke, formerly an Assembly member, and MLA Cathal Boylan.
Mr Boylan and Mr Clarke are also defendants in the case, as the allegedly defamatory news releases were circulated in their name.
The case resumes next Wednesday.