City Hall flag protest blocks Belfast city centre street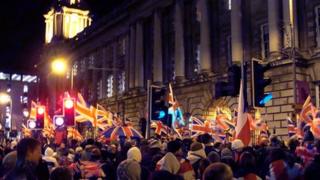 May Street in Belfast has been completely blocked by about 1,000 protesters demonstrating against a council vote on flying the Union flag.
The protest has caused disruption to city centre traffic and bus services.
Councillors are debating whether or not to keep the flag flying on City Hall.
Currently, the flag is flown every day of the year at the building. Nationalist councillors want it removed, arguing this would create a more equal and neutral environment.
Unionist councillors accused Sinn Fein and the SDLP of "raising tensions".
The loyalist protesters gathered at the rear of city hall just before the debate was due to start.
Population shifts
The proceedings are being streamed live on the council's website.
Belfast City Hall opened in August 1906 and the Union flag has flown from the landmark building for longer than a century.
It was first raised when Belfast was a mainly unionist city but in recent decades, population shifts have led to a rise in nationalist councillors and an end to unionist control.
Combined, Sinn Fein and the SDLP now outnumber unionist councillors by 24 to 21.
Just over a week ago, Belfast City Council's policy and resources committee voted 11-9 in favour of removing the flag from the building completely.
Balance of power
Such a decision requires the backing of the full council, and that vote is due to be taken on Monday evening.
However, the Alliance party, which holds the balance of power within Belfast City Hall, has offered a compromise.
The party has proposed a motion that the Union flag be flown only on designated days- in line with the current flag policy at Stormont.
Sinn Fein and the SDLP have indicated that they vote to support the compromise motion, although it is not their preferred position.
The flag debate has provoked fresh controversy in recent weeks, with Alliance accusing the DUP and UUP of "underhand tactics".
Both of the main unionist parties were involved in the delivery of up to 40,000 leaflets that claimed Alliance had sided with nationalists on the issue.
Emotive issue
The leaflet urged members of the public to contact the party by phone to express their views on flag policy.
Alliance said its office staff were subjected to "many abusive and nasty" phone calls following the distribution of the flyers.
In response to complaints from Alliance, the DUP said it had "nothing to apologise for" while the UUP said flag policy was an emotive issue for unionists.
Both parties said they had advised anyone contacting politicians on the issue to be "respectful" at all times.