Raw emotions in Northern Ireland exposed by issues like flags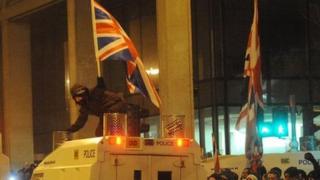 The former SDLP leader John Hume used to frequently say "you can't eat a flag".
Ask most Northern Ireland politicians whether they would prefer to spend their time discussing flags or "bread and butter issues" and they'll tell you the economy every time.
Despite that, flags, murals and even the wearing of poppies continue to have the potential to stir sharp divisions.
Under the Good Friday and St Andrews agreements, former enemies reached a series of complex compromises that enabled them to share power.
But trouble like Monday night's riot at Belfast City Hall emphasises that, beneath the surface, the emotions generated by conflicting national identities remain raw.
If political parties or pressure groups decide to light the touch-paper on such issues and stand back, it doesn't take a pyrotechnician to work out what will happen next.
The Belfast City Hall dispute is just the latest in a long line of disputes over flags in Northern Ireland.
Way back in 1964, five years before "the Troubles" got under way, there were riots after a republican candidate in a general election placed an Irish tricolour in the window of his office on the Falls Road in west Belfast.
The police were pushed into intervening after a young preacher called Ian Paisley said if the police didn't remove the Irish flag, he and his supporters would march down the road and do it themselves.
Fast forward to 2001, when the paramilitary ceasefires of the 1990s had supposedly brought the Troubles to an end, and flag-flying remained a source of tension.
Although the precise causes of the ugly dispute at the Holy Cross Girls Primary School in north Belfast are contested, there's little doubt that a fracas between nationalists and men putting up loyalist flags played a role.
There were allegations that the men putting up the flags were knocked off their ladder.
Whatever the truth, the row mushroomed into one of the most visceral episodes Northern Ireland has witnessed, with young children being subjected to taunting as they made their way to school and, at its height, a blast bomb thrown at the security forces trying to protect them.
Some in Northern Ireland regard disputes about flags as ridiculous and outdated. Raw emotions exposed by issues like flags
For others the right to fly their flag remains an important way to mark their territory and assert their identity.
Israelis and Palestinians
That's why - especially during the summer marching season - flags of all kinds sprout from lamp-posts, trees, private houses and even blocks of flats.
Mostly those flags symbolise people's British or Irish identity - but on occasions the clash of flags gets more surreal, as in those periods when nationalist areas have displayed Palestinian flags and loyalists have flown Israeli ones.
Northern Ireland has a "flags protocol" dating back to the days when Westminster politicians ran matters directly, which includes amongst its objectives removing "paramilitary flags and displays" and "the control of displays of flags and emblems in particular areas such as mixed and interface areas and near buildings such as schools, hospitals, places of worship and community halls".
While there's growing consensus about the need to deal with flags carrying the symbols of illegal paramilitary groups, the flying of national flags remains - as the Belfast council dispute illustrates - difficult terrain.
Stormont ministers are still working on a new community relations policy, known by its rather unwieldy title as the Cohesion, Sharing and Integration strategy.
A draft version seen by the BBC earlier this year called for a new framework to regulate the display of flags on public property and "zero tolerance" for paramilitary flags.
However the Stormont politicians have been finding it just as hard as their counterparts in Belfast City Hall to agree a way forward on flags.
So it will be interesting to see what tangible proposals on flags make it into their final strategy paper, and whether those proposals make any difference on Northern Ireland's flag festooned streets.