Pauline Haveron's lover Andrew Jones made hysterical 999 call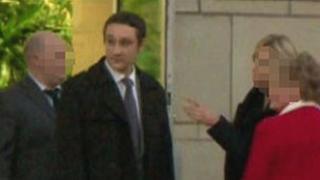 The lover of a woman allegedly murdered by her retired police officer husband was so hysterical when he called the emergency services he could barely speak, a jury has heard.
The recording of the 999 call Andrew Jones made after he found the body of Pauline Haveron was played at Belfast Crown Court on Tuesday.
Her former husband, Joseph Alfred Haveron, 58, is on trial for her murder in April 2010.
He denies murdering his estranged wife.
The jury heard Mr Jones, 30, wailing and panting heavily during the five minute call and had to be told numerous times by the operator to calm down and take deep breaths.
Mr Jones, who met his lover through her son and church activities, was heard shouting down the phone at the emergency operator: "I found my girlfriend in the bath and she's blue."
After being told the calm down, he managed to give the address but could be heard almost constantly wailing as he described letting himself in through the patio door and finding Mrs Haveron in the bath "cold, cold and she's blue".
Mr Jones was in such a hysterical state the operator told him to get a neighbour for help and the jury then heard the operator explain to the neighbour what had happened.
"Is she beyond help," asked the operator, who was told: "Yes. She's freezing cold, her body is white and her face is purple. She's been here a while."
The trial continues.