High-tech health care 'can benefit NI patients and economy'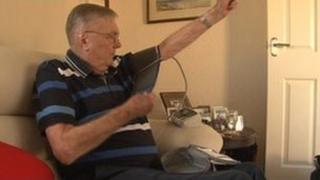 Technology can revolutionise the way in which health care is delivered in Northern Ireland.
That was the message from Stormont's Health Minister, Edwin Poots, who told the Assembly that local patients and the economy can only stand to benefit from the opportunities created by research and development.
Over the past 12 months, the Department of Health alongside the Department for Enterprise, Trade and Investment (DETI) have attempted to push ahead with their shared agenda for Connected Health and Prosperity.
Home monitoring
By working together, both departments are attempting to improve standards of health care while at the same time create jobs.
TelemonitoringNI allows patients who would otherwise have to travel to their GP or hospital to be monitored in their own homes
Michael Howard, who suffers from several chronic health conditions, employs the service daily.
From the comfort of his home he can record the various statistics which indicate whether he needs to change his medication or indeed seek professional help.
Using an electronic device, he takes his own vital signs, including blood pressure and oxygen levels.
These are sent to a central office where results are monitored by nurses using computers and a telephone system.
Mr Howard says it is a godsend.
"It is so convenient and reliable. I haven't had to go into hospital with a chest infection for over two years. The stats are closely monitored and any change - a nurse will call to me. It's reliable and means I'm not running up and down to the GP."
Telemonitoring is being rolled out to thousands of patients across Northern Ireland.
While the nursing team is employed by the NHS, it is a private consortium that runs the practice.
The Public Health Agency's Eddie Ritson says it doesn't cut out the personal interaction between patient and nurse.
"Telemonitoring isn't about replacing people with technology. It is about providing information which people can use and their carers can use as well. That will enable to live more healthy lives at home for longer and reduce the unplanned use of GP and hospital services," Mr Ritson said.
Leap of faith
Undoubtedly technology can revolutionise health care but it requires funding and lots of it to really make a difference.
Speaking to the Assembly, Health Minister, Edwin Poots, said the local NHS must be prepared to take that leap of faith.
"Research is the cornerstone of reform and innovation, it is the catalyst for improvement. As we move forward with Transforming Your Care, investments such as this will be crucial to reform of our health and social care system," Mr Poots said.
While technological innovation sounds good on paper - in practice what does it actually mean?
At Randox Laboratories in County Antrim, scientists are working on early diagnoses for conditions including respiratory conditions.
Reducing risk
This can alter patient pathways, improve their health outcomes and reduce health service costs.
Presently, more than 70% of clinical decisions are based on diagnostic results - so according to Mark Campbell, a senior manager at Randox, better diagnostics can greatly enhance the majority of clinical decision making.
"For example, coming in to the winter time, when many people will suffer from coughs and splutters, we can now analyse those coughs and splutters more effectively, detect the right treatment and treat effectively.
"This reduces the risk to the patient and cost to the health care service," Mr Campell said.
The UK's death rate for instance from respiratory disease is almost double the European average and the sixth highest in Europe.
With the growing and ageing population, according to the minister there is a need for a radical and strategic approach to managing the health service.
He told the Assembly that Connected Health and Innovation have key roles to play in meeting these challenges.