US Secretary of State Hillary Clinton condemns recent NI violence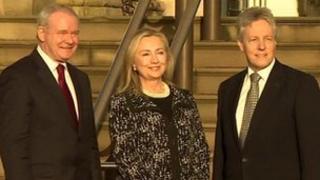 US Secretary of State Hillary Clinton has condemned this week's violence in Northern Ireland during a visit to Belfast.
Mrs Clinton was in the city as part of a four-day trip to Europe.
"We have seen this week the work is not complete and I join in condemning the recent attacks," she said.
"There will always be disagreements in democratic society but violence is never an acceptable response."
Mrs Clinton said all parties in Northern Ireland "need to confront the remaining challenge of sectarian divisions, peacefully together".
"What we have to do is get out of the ballrooms, out of Stormont and into the communities where people live, where they do not have that lasting hope of optimism," she said.
When asked about the death threat against East Belfast Alliance MP Naomi Long, she said: "I know her and I am distressed about her and attacks on Alliance. It's unacceptable."
Mrs Clinton said democracy required "dialogue, compromise and constant commitment by everyone to protect the rights of everyone".
She later attended a Worldwide Ireland Funds dinner at Titanic Belfast.
The US Secretary of State met with Naomi Long during the event and offered her support.
Mrs Clinton offered to continue working in developing the peace process, even after she has stepped down as Secretary of State.
"Peace here has proven remarkably durable," she said.
"However it is being tested. The recent attacks are a sad reminder there are still those who would try to destroy it.
"The promise of peace must be delivered. There has to be an economic return for people here.
"I offer to you, as I stand down from Secretary of State, to continue working with you in developing the peace process as an advocate and cheerleader for the process and to reach out to those who are not feeling part of it."
Northern Ireland First Minister Peter Robinson and Deputy First Minister Martin McGuinness both paid tribute to Mrs Clinton's role in the peace process.
Security conference
Mr Robinson said she had helped build the peace process and that the Titanic building was testament to that process.
Despite attacks on the peace process, he said, "this ship is not going down".
Mr McGuinness said Mrs Clinton and her husband Bill, the former US President, were vital voices in the peace process.
"They were among some incredible people who walked with us along a difficult road to get where we are today," he said.
It may be one of Mrs Clinton's last foreign engagements as Washington's most senior diplomat.
Her visit came amid tensions over the decision to stop flying the union flag at Belfast City Hall every day.
Nationalists at Belfast City Council had wanted the flag taken down altogether, but in the end voted on a compromise from Alliance that it would fly on designated days.
On Friday, it was revealed that death threats had been issued to Mrs Long and Sinn Fein councillor Jim McVeigh.
On Wednesday night, a loyalist mob set fire to an Alliance party office in Carrickfergus in County Antrim and the home of two councillors in Bangor, County Down, were attacked.
On Thursday, Mrs Clinton attended a security conference in Dublin as part of the four-day trip that will also take in the Czech Republic and Belgium.
President Obama starts his second four-year term next month, and Mrs Clinton has said she does not want a second four-year stint as Secretary of State.
This was Mrs Clinton's eighth visit to Northern Ireland - her second as Secretary of State. Her previous trip was in 2009.