Invest NI defends chief pay deal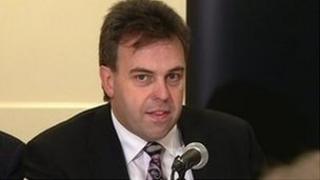 Invest NI says the new salary package paid to its chief executive will be back-dated to 2009.
Earlier this week it emerged that Alastair Hamilton's basic salary is to rise from £160,000 to £190,000 a year - a rise of 19%.
Backdating the rise to 2009 means Mr Hamilton will be paid £90,000.
Invest NI said that the backdated payment was less than the performance related element of the chief executive's salary that he was contractually entitled to but did not take.
The organisation said backdating the new pay deal would actually make him worse off than under the old arrangement.
Sinn Fein MLA Phil Flanagan said there remained concerns about Mr Hamilton's salary.
He said: "The revelation that the salary of the Invest NI CEO has been increased to £190,000 in lieu of a performance-related bonus caused great concern amongst many members of the public.
'Current austerity'
"There will be even greater consternation that this payment is being backdated to cover the last three years.
"It is very difficult for any public body to justify such a high salary, particularly with the current austerity policies of pay freezes within the public sector."
Further details of Mr Hamilton's new pay arrangements emerged after Invest NI chairman Mark Ennis and the permanent secretary of DETI, David Sterling appeared before a Stormont committee of MLAs.
When Mr Hamilton took over as the chief executive of InvestNI in April 2009, his basic salary was £160,000 plus a performance-related element worth up to 30% of his salary.
According to Invest NI, Mr Hamilton earned annual bonuses of £36,800 for three years but chose not to take them pending the outcome of a review into senior civil service pay.
His pay deal was then re-negotiated. The performance element was removed but his basic pay rose from £160,000 to £190,000 - an increase of around 19%.
'Irrelevant'
A statement from InvestNI said: "For the last three years (2009-2012) the CEO was awarded a performance payment of £36,800.
This brings Mr Hamilton's earning to £196,800 for each of the three years.
"The fact that he chose not to take his full entitlement during the period of the review of senior civil service salaries is irrelevant. The amounts not taken were accrued and stated in Invest NI annual reports and could have been taken at any time."
"By accepting a re-negotiated package of £190,000, the CEO has actually accepted a reduction in pay of over £20,000 across the three years."
Mr Flanagan said there were still serious questions to be asked about the remuneration packages of senior public servants and he believed the executive should take action to address the issue.
On the decision to move away from a performance-related or bonus pay component to a flat rate, Mr Ennis told the DETI committee: " He (Mr Hamilton) finds the whole thing personally very embarrassing as I am sure you will understand.
"He actually came to the previous chairman and suggested they may want to consider a flat-based package that might be more appropriate given the political concern there was around the term 'bonus'."
The chair of the committee, SDLP MLA Patsy McGlone, also criticised the increase in Mr Hamilton's basic salary.
He asked Mr Ennis if it was true that pay for other staff in Invest Ni had been frozen for the past two to three years.
Mr Ennis replied: " Yes that is correct."
Mr McGlone said: "It is hardly a morale boost for the rest of the staff when the base pay of the chief executive has increased by £30,000 at a time when the pay of many of the organisation's staff is frozen."