Housing Executive lodges objection to car park plans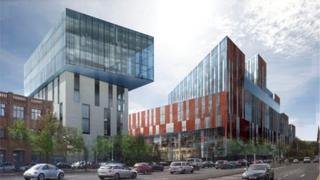 The Housing Executive has lodged a planning objection to a regeneration project in Belfast city centre.
The Department of Social Development (DSD) has applied to have public land at Fredrick Street turned into a multi-storey car park with ground floor retail space.
The scheme is linked to the University of Ulster's new campus.
The car park is required ahead of the university's scheduled opening in September 2018.
The Housing Executive wants the scheme blocked, stating in a letter of objection that the area is zoned for social housing in the Belfast Metropolitan Area Plan (BMAP).
It said if approved "it could set a precedent for other social housing zoned sites in BMAP".
Among them is a proposed private developer apartment scheme at nearby Nelson Street, to which the Housing Executive has had a long-standing objection.
The site at Frederick Street - opposite the Interpoint building - is currently used as a surface-level car park.
The Housing Executive has said north Belfast requires almost 1,300 social houses over the next five years - there are currently 2,400 people on a waiting list for a home.
Its objection letter states: "While it is appreciated the university campus will bring benefits to this part of north Belfast, high density car parking on Frederick Street is not appropriate."
According to the Housing Executive, local community groups plan a petition against the scheme.
"Residents have serious concerns this will adversely affect the character of their local area," the letter added.