Angling First charity praises help after Dromore raid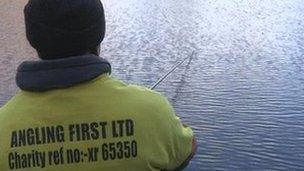 A fishing charity which had all of its equipment stolen in a break-in has praised the "outpouring of generosity" from people who have offered help.
Last week, 60 rods and other equipment were stolen from a shipping container just outside Dromore, County Down, used by the Angling First charity.
Sports Minister Carál Ní Chuilín has presented the charity with rods seized from people fishing illegally
The David Prentice car dealership in Portadown gave it a cheque for £600.
As a result of the donations, a session with a suicide awareness group was able to go ahead on Saturday.
The charity says this year it has taught 2,000 children from deprived areas across Northern Ireland how to fish.
Angling First's Mark McGivern said his "head did go down" after the burglary.
"I know it has been somebody with prior knowledge, someone who's familiar with our set-up," he said.
"When you go through the process of reporting to the police etc, you start to doubt yourself."
However, he said after the story featured on the BBC Northern Ireland website, "the outpouring of generosity towards us from the Northern Ireland community was very, very encouraging.
"I'm now standing here today and I'm able to continue thanks to people like David Prentice and the minister intervening.
"I'm greatly encouraged and to them I would just like to say thank you."