PSNI and courts get new powers to close pubs and clubs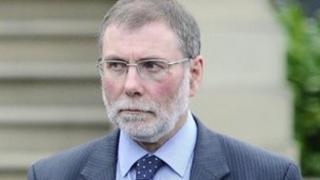 New powers allowing the police and the courts to close pubs and clubs due to disorder come into effect on Monday.
It means a senior police officer can close a licensed premises or a private members' club when there is disorder on or near the premises.
It also allows a court to order a pub or club in an area of "actual or expected disorder" to close for up to 24 hours.
The legislation was passed by the Stormont Assembly last year.
The aim of the Licensing and Registration of Clubs (Amendment) Act (NI) 2011 is to ensure local pubs and clubs help to minimise anti-social behaviour on their premises.
The minister responsible for the issue, the Social Development Minister, Nelson McCausland, said he hoped the new powers would "never have to be used".
Mr McCausland said: "As a rule, I know that the police would prefer to prevent crime rather than to have to deal with its consequences.
"Disorder in pubs and clubs puts a strain on our emergency services and causes distress for those living in the vicinity.
"I expect these new powers to deter anti-social behaviour in and outside pubs and clubs and help ensure the licensee runs an orderly house.
"I expect closure will only be used as a last resort," the minister added.
The PSNI has welcomed its new powers.
Assistant Chief Constable, George Hamilton, said police "will use these powers sparingly and only where necessary in order to protect public safety".
"We acknowledge that the closure of any premises is a significant step and for that reason these powers will be used as a last resort and when all other options have been exhausted.
"The Police Service continually works in partnership with a wide range of organisations to assist in the process of creating a safe night-time economy across all of Northern Ireland and will continue to do so," ACC Hamilton said.
Earlier this month, the social development minister confirmed he is to ban fixed price promotions of alcohol, in a move that will end deals such as those offering "all you can drink for £20".