Antrim Grammar School has its own 'Gangnam Style'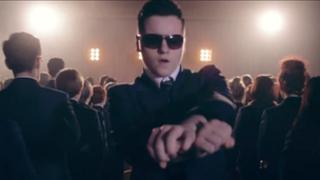 It is the most watched music video on Youtube, and now a school in Northern Ireland has taken inspiration from the song, Gangnam Style, in an unconventional bid to attract new pupils.
Students and staff at Antrim Grammar School have filmed their own version of the world-wide pop phenomenon which is sung by the South Korean popstar, Psy.
Renamed Antrim Grammar Style, their video has notched up thousands of hits in just three days.
They still have quite a way to go to match Psy's popularity - the original version has been viewed almost a billion times since it was first posted in July.
Dance moves
However, the principal, Stephen Black, said it has created a "buzz" about the whole school and was a brilliant opportunity to "showcase the tremendous talent that our young people have".
The video, filmed over two days, shows the pupils singing and dancing in various parts of the school building, with many attempts at the moves made famous by Psy.
Mr Black said the school usually makes an information video every year to try to encourage P7 children leaving primary school to enrol at Antrim Grammar.
The idea for this year's Gangnam Style-theme was the brainchild of the school's geography teacher, Bronagh Lavery, but was very much a team effort by staff and students.
Mr Black said the lyrics to Antrim Grammar Style were written by Year 13 pupil, Stephen Fletcher, and "everything in a sense spiralled from there and the whole school got involved after that".
The principal, who makes a brief cameo appearance in the video, said there had been a "very positive" reaction from people in the local area, including other head teachers and past pupils.
"I even had one from a principal in a school in Dubai telling me how much he enjoyed it," Mr Black said.
He added that famous past pupils, such as snooker star Mark Allen and Strictly Come Dancing's Ricky Whittle, had posted their appreciation on Twitter.
'Fun'
The main dancer, Ben Hardy, lip-synchs to the song which is sung by his fellow Year 12 student, Bryce Allen, and the scenes were choreographed by their PE teacher, Laura McAlpine.
"When we were shooting some of the scenes, where there were maybe three and four hundred children involved, there was a tremendous atmosphere and a real feel-good factor about the school associated with that," Mr Black added.
The principal said the whole school was delighted with the interest the video has generated and would consider a similar venture in the future.
"I think in schools, we're all about excellent academic achievement, we're all about outstanding pastoral care, but equally I think we have to always recognise there has to be a fun element to school too if pupils are to really enjoy it and we're always keen to try to do something a wee bit different for that to happen."
Earlier this year, a video made by the pupils of Friends' School in Lisburn, inspired by the US televisions show Glee, was viewed more than 400,000 times on YouTube.