Trust chair says Edwin Poots 'victimising' him over sacking refusal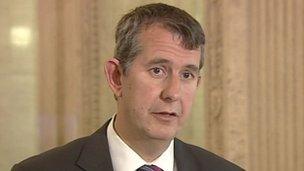 The chairman of the Northern Health Trust has accused the health minister of victimising him over his refusal to sack the trust's chief executive.
Jim Stewart said Edwin Poots was trying to make an example of him after threatening that "heads would roll" if trusts did not achieve their targets.
However, Mr Poots said he was "not aware" of a request to sack the chief executive.
But he said they wanted to focus on improving services.
As chair of the Northern Health Trust, Mr Stewart's role is to challenge and to hold senior managers to account.
That includes chief executive Sean Donaghy.
But despite a number of failings, Mr Stewart says it was not entirely the trust's fault and has told the minister he will not sack Mr Donaghy.
However, last week in a meeting with the Department of Health's permanent secretary, Andrew McCormick, Mr Stewart said he was told that the health minister wanted him to resign and to go quietly.
It was suggested to Mr Stewart that this could happen in March 2013.
Mr Stewart said: "I was asked what were my intentions.
"I thought this was very strange. I told Andrew that I would not sack Sean Donaghy and that I intended to finish out my term as the chair. I have another 18 months in the job."
He added: "I feel I'm being victimised simply because the trust didn't achieve the targets.
"But recently we have started to make improvements, and perhaps these targets are only achievable in the long run."
However, Mr Poots told the BBC: "I have never heard of, at any point, anybody being asked to sack the current chief executive of the northern trust.
"That is not something I'm aware of and it's certainly something that my senior officials would deny as being the case."
He said that he wanted to improve the services delivered by the trust and was "not particularly interested in focussing on individuals".
The Northern Health Trust has been under considerable pressure mainly due to the poor performance of the Antrim Area Hospital's accident and emergency department.
For successive winters, the hospital has experienced excessive trolley waits with regular breaches to both its four and 12-hour targets.
According to Mr Stewart, the hospital's A&E department is too small and is dealing with double the number of people it was originally built for.
In an exclusive interview with the BBC, Mr Stewart said: "We are all doing our best under very difficult circumstances and that is not being recognised by the department or the health minister.
"Our new A&E department will be ready in May. We only recently have a full quota of staff.
"We still don't have the support of a proper out-of-hours service in Antrim.
"We need time and as the recent report from the Health and Social Care Board illustrated we are starting to make progress."
The Department of Health has announced that a "turn-around and support team" from England is to begin working with management at the Northern Health Trust.
In England, it is normally when a health trust is in crisis that a team like this is sent in.
The move follows the trust's chief executive asking the department for help.
Under the governance structure, it is not within the power of the health minister to sack a trust chief executive.
This power lies only with the trust's chairman.
However, the minister can sack the chairman of a health trust if he feels he is not carrying out his or her duties.
In a written statement to the assembly, Mr Poots said the trust had faced "significant challenges" since its establishment in April 2007.
"In spite of support measures which have been put in place previously to assist the trust, and the actions which have been taken, there needs to be further progress in the improvement of patient experience and care in the northern area," he said.
"There are no signs of sufficient improvement in waiting times at emergency departments in spite of the earlier Hinds and Rutter Reviews of the Trust.
"The numbers of patients waiting over 12 hours at emergency departments have been unacceptably high throughout the year, and rising lately."
He said the turnaround and support team was being asked to complete a strategic overview to establish what changes and support might be required to speed up progress.