David Ford questions assembly flag meeting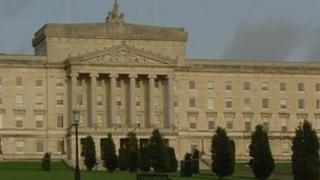 Alliance Party leader David Ford has questioned whether the assembly commission should meet later to discuss flag flying in what he said was a "charged atmosphere".
The DUP's Peter Weir is due to propose a process of consultation on extending the number of days the union flag is flown over the assembly building at a meeting on Tuesday.
But Mr Ford raised the issue at the Northern Ireland Assembly after Monday's petrol bomb attack on a police officer's car in east Belfast.
Mr Ford told the assembly that it was a time for measured reflection.
"The question as to whether the assembly commission should meet in the charged atmosphere of today is one which is serious," he said.
The union flag currently flies over the assembly building for 15 days a year. The assembly commission is a cross-party group that manages Parliament Buildings.
The DUP proposal follows a decision by Belfast City Council to fly the union flag at city hall only on certain days. The move led to loyalist protests, many of which escalated into violence across Northern Ireland over the past week.
It is thought any new process could take several months to decide if dates like Ulster Day, the anniversary of the Covenant, or Remembrance Sunday should be added to the list of days when the union flag flies at Stormont.
If the proposal does not command a consensus, the commission members can vote in accordance with their party strengths.
No cross-community vote is required. It is thought the unionist commission representatives may be able to cast 55 votes, while nationalists and others command 52 votes.
That arithmetic discounts the vote of the speaker Willie Hay, but assumes the TUV, UKIP and the sole independent unionist will lend their vote to the main unionist parties.
Equality impact
As things stand, unlike Belfast City Council, the Alliance Party does not control the balance of power on the commission.
Alliance sources have said they are still taking legal advice on the matter, but believe such a proposal would have to be subjected to a full equality impact assessment.
On 3 December an Alliance Party compromise to fly the union flag at Belfast City Hall on designated days, rather than remove it altogether as Sinn Fein and SDLP proposed, was voted through.
The decision has angered loyalists who have vented their frustrations in a series of protests, some of which have turned violent.
The homes and offices of several Alliance members have been attacked. A death threat was also issued against its East Belfast MP Naomi Long.
Twenty-nine police officers have been injured during the disturbances in Belfast in the past week - the PSNI said they were treating a petrol bomb attack on a female officer on Monday night as attempted murder.
Ms Long said the issue of flags at Stormont had been "dormant" since 1998.
"Those that are raising it need to ask themselves why they are raising an issue in this tense environment, in this hugely inflammatory situation when they know the consequences of another argument on the flags issue," she said.
"I think people need to step back from the brink - they need to take a long hard look at where we're headed and decide whether they actually want the assembly and Northern Ireland to move forward in a spirit of cooperation and progress or whether they simply want to continue with this tit-for-tat process that we have seen up to now."
One senior Alliance source told the BBC they believe what is being suggested by unionists "does nothing to build stability".
SDLP MLA Conall McDevitt said the attack on the officer on Monday was "a tipping point from which political unionism needs to step back".
"It is about not taking anything that might be seen as escalating in terms of this row over symbols in public buildings," he said.
"I appeal directly to the leaders of the Ulster Unionist Party and the DUP - do not start the debate that has caused this trouble in the city hall again in Stormont.
"Do not escalate the matter, step back, consider the facts - 43 illegal road blockings between 5pm and 7pm on Monday night in Belfast - four of them involving direct violence. This is not peaceful protest, it is illegal protest and it's descending into mob rule."