Slight fall in jobless figures but more signing on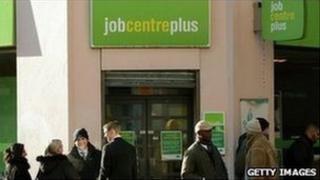 The headline unemployment rate in Northern Ireland has fallen slightly on last month, but there has been a jump in those claiming unemployment benefit.
Under one definition of unemployment, the level was estimated at 7.8% in the three months ending in October.
That was down slightly compared to the previous quarter but is the same as the UK average.
The NI rate of 7.8% compares to more than 10% in the European Union and 15% in the Republic of Ireland.
Signing on
Almost one in five young people looking for a job cannot find one.
But when it comes to signing on the dole, the number is up on last month.
In November 64,700 people in Northern Ireland were claiming unemployment related benefits. an increase of 500 on the previous month.
In the UK the number fell.
In the past year, the annual number claiming benefit has increased by 4,000 or 6.6% compared to a fall across the UK as a whole making the annual rise in Northern Ireland the highest among all the UK regions.