Northern Ireland Nexus abuse service has '40% increase'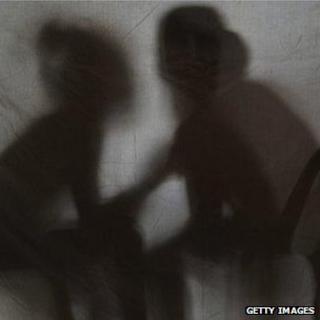 A counselling service for sexual abuse is reporting a 40% increase in calls in the last month.
The Nexus Institute, which has offices across Northern Ireland, is putting the increase down to the Jimmy Savile scandal.
Chief executive Pam Hunter said the revelations had awakened memories of different abusers.
"We've had an 85-year-old woman who has suppressed the memories that has come forward for the first time," she said.
"We've had people who've gone to pick up the phone four or five times but couldn't make that call, but the media has pushed them over the edge.
"And now they've made the call so if nothing else if there's any good that can come from the travesty of Jimmy Savile is that people are actually coming forward for help."
A breakdown of the people Nexus helps makes for disturbing reading.
They said 18% of their clients had been abused before they even reached the age of five. A further 45% were sexually assaulted between the ages of six and 10.
Waits
Counselling can be difficult to access on the National Health Service and Pam Hunter admitted they also have trouble keeping waiting lists down in every area.
"We should be able to see you in Belfast within two weeks but in Newry and Armagh there are fewer resources and it can be up to four or five months," she said.
One of Nexus' clients, who doesn't want to be identified, says counselling saved her life: "If I hadn't been put in contact with Nexus I have no doubt that even though I was married with a family I probably would have taken my own life.
"Once I faced up to the fact that I had been abused you can't put that dark secret away again - it comes out and you have to deal with it."
In a statement the Southern Health Trust says it recognised people in their area did have to wait longer for treatment.
The statement added: "The Trust would like to see shorter waiting times. However, this could only be achieved by investing additional funds in the service which are not currently available to the Trust."
So with the Catholic abuse scandal and now Jimmy Saville is sex abuse endemic in our society?
Pam Hunter thinks it is.
"I believe it's endemic and if you scratch the surface of all the social ills in society whether it be addictions, mental health problems - scratch the surface and you will find sexual abuse," she said.
"Forty per cent of people who are in prisons at the minute have been sexually abused, so if you put more investment more treatment into dealing with sexual abuse think about what long-term costs you could reduce in society."