Finucane: Could Baha Mousa inquiry provide a template?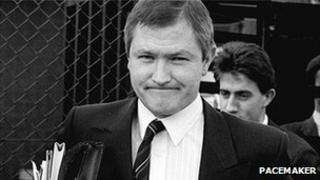 Scroll back two and a half years and one of David Cameron's first tasks as Prime Minister was to present the findings of the Bloody Sunday Inquiry to the Commons.
A huge cheer erupted from the crowd watching a giant screen in Londonderry's Guildhall Square when the Prime Minister described the 1972 Army killings as "unjustified and unjustifiable".
By contrast, Mr Cameron's latest expression of deep sorrow over Pat Finucane's murder has fallen on deaf ears.
Nationalists want key players in the British military, police and government cross-examined in public over their role in the lawyer's murder.
They believe such an inquiry would expose collusion in other loyalist killings.
The Finucane family accuse the government of concentrating the blame on those already dead and excusing politicians from any involvement. They regard the De Silva review's confirmation of state collusion, but denial of state conspiracy, as inadequate.
Unionists, however, reckon the case has been given more than adequate scrutiny. In the Commons, the independent unionist Lady Sylvia Hermon, whose late husband Sir John Hermon was Chief Constable, claimed the Royal Ulster Constabulary had become the butt of "widespread and unfair criticism".
The De Silva review concluded that Pat Finucane had not been a member of the IRA, but in the Upper House that didn't stop Lord Ken Maginnis from accusing the lawyer of being a "godfather".
After the Bloody Sunday inquiry ran up a bill of nearly £200m, David Cameron made it clear he was not prepared to set up any further open ended inquiries in relation to Northern Ireland.
Despite coming under sustained pressure from the Finucane family and nationalist politicians, right up to the Taoiseach Enda Kenny, the prime minister shows no sign of changing tack.
The Finucanes have pledged to continue their campaign, but it looks like they will have to hope for a change of government in order to advance their cause.
Ed Miliband has backed a public inquiry and Pat Finucane's son Michael says he believes the Labour leader will keep his word.
However, Labour was in power for 13 years and didn't manage to agree the terms for an inquiry acceptable to the Finucane family. Indeed the Finucanes regarded Labour's decision to push through the 2005 Inquiries Act as a deliberate attempt to restrict the scope of any inquiry into their case.
Since then, however, the inquiry into the death of the Iraqi Baha Mousa has created a precedent the Finucanes can live with.
That's an inquiry operating under the 2005 Act, but with protocols establishing its independence and transparency.
Should Mr Miliband ever achieve his ambition to get into Number Ten, it will be instructive to see if he's prepared to offer a Baha Mousa style inquiry, even though the passage of time may mean more of the key players are no longer around to be interviewed.