Black swan sets up home in north Belfast park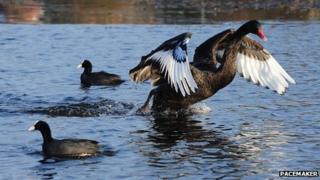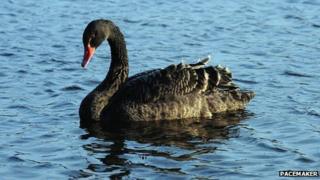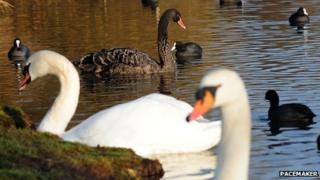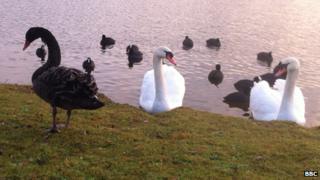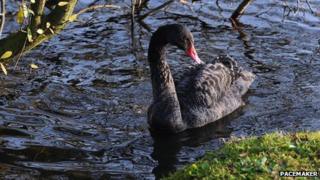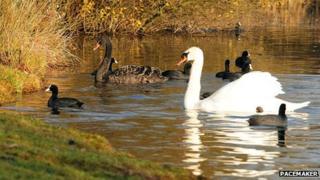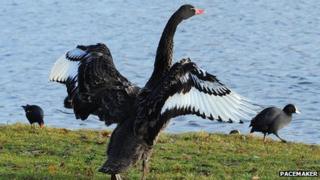 If you were to hear people talking about the black swan, you might think they were referring to the movie.
But would you imagine that you would see the real thing - and in north Belfast?
Well, although native to Australia, a female black swan has been spotted at the Waterworks on the Antrim Road - a park in the shadow of Cavehill.
Local bird watcher Aidan Crean said he was very excited about the seeing the creature in the wild for the first time.
"We have coots, moor hen, mallards, about 100 black headed gulls that have come in from Belfast Lough, a couple of mute swans and in the middle of it all an amazing black swan, pure black with a red bill," he said.
"It would be lovely to think that this bird has flown from Australia all the way to Belfast Waterworks, but the likelihood is this bird is most likely an escapee."
The Waterworks, as the name suggests, was the source of Belfast's water supply in the mid-19th century.
It became a public park in the 1950s and today is an oasis for wildfowl.
So it may not be that unusual for a young, lost swan to choose the Waterworks for its new home.
Mr Crean said many people keep wildfowl and waterfowl collections all over Europe and the British Isles.
He added: "This bird is quite tame. We would encourage local people, local schools, to stop and take a look at this bird.
"Put your dog on a lead, don't feed it (the swan) too much bread, that can cause problems. The bird should be getting seed and a bit of grass."
Liam McKinley from Belfast City Parks said the bird was simply "beautiful".
"I would encourage people from all over to come and have a look at this beautiful creature to see another additional attraction to our parks," he said.
The black swan is about 48 inches (1.2m) long with a 70 inch (1.8m) wingspan.
Males and females are similar with black plumage and bright white primary feathers in the wings, though the white is frequently hidden at rest.
The black swan has a musical trumpeting call with flute-like notes and nasal honks.
A caller to BBC Northern Ireland said he had spotted a black swan near Strangford in County Down. two days ago.
So if it is the same bird, she obviously prefers life in the city to that of the country.
Have you spotted a black swan anywhere on the island of Ireland? Send your images to nipics@bbc.co.uk with a brief note about where and when it was taken.