Mother's Day killer John Charles Coburn may "never be free"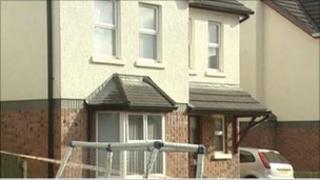 A paranoid schizophrenic who killed his mother in a frenzied knife attack has been told he "may never be freed".
Antrim Crown Court heard that John Charles Coburn stabbed his mother at her home in the village of Kells and Connor on 3 April 2011, Mother's Day.
Coburn admitted manslaughter on the grounds of diminished responsibility.
Mr Justice Burgess imposed an indeterminate sentence on Coburn, 35, who believes he still hears his mother Lynn talking to him through his TV.
The judge imposed a minimum tariff of five years but explained that "for all intents and purposes it is equivalent to a life sentence."
He said that university educated Coburn "may never be released but should the Parole Commissioners consider release to be appropriate, he will remain under licence for the remainder of the indeterminate sentence".
Coburn's 32-year-old brother, Andrew, was also injured in the attack at their mother's Rossburn Manor home in the quiet County Antrim village just outside Ballymena.
The court heard that the defendant and his 53-year-old mother had been chatting, seemingly on friendly terms, when screams were heard and the defendant was found attacking his mother with a knife.
'Horrific'
Coburn also attacked his brother who left the property to seek help. The police arrested him at the scene.
Mr Justice Burgess said that the injuries suffered by Mrs Coburn were "horrific".
Coburn had a history of mental illness, and had been diagnosed as suffering from paranoid schizophrenia a number of years before he attacked his mother.
Coburn had been under medical supervision in the community and had been prescribed medication, but the court was told he had engaged poorly with psychiatric services, and that he had admitted he adjusted his medication on his own initiative.
The court was told Coburn had abused alcohol and drugs in the past and may have engaged in illicit drug taking in the days before he killed his mother.
Mr Justice Burgess noted that medical report prepared for the prosecution considered that Mr Coburn had been suffering from paranoid schizophrenia at the time of his offence.
He said that the medical reports prepared for both the prosecution and defence had "recommended inpatient treatment in a secure hospital setting".
The judge noted that the medical reports indicated that there was a long way to go before a proper assessment of Mr Coburn's medical condition and treatment could be made and the Coburn posed "a significant risk of harm to members of the public".