Declan Gormley wins libel case against Sinn Fein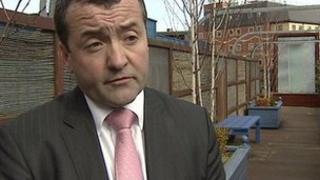 A jury has found that Sinn Fein libelled a former director of NI Water.
Declan Gormley sued the party over the contents of two press releases it issued in 2011 in support of his sacking from the NIW Board.
The party denied the press releases were defamatory, but the jury found the party had acted with malice.
There will be another hearing at the High Court on Monday when damages will be decided.
The businessman, who was dismissed from the government-owned company by former Sinn Fein Regional Development Minister Conor Murphy, spoke of his relief at the outcome.
"I'm delighted, I feel the verdict has vindicated the position I have held throughout that this was something that was wrong," he said.
"I'm also disappointed that I had to end up in court, I would have been happy to settle for an apology and a public acknowledgement that it was wrong."
Mr Gormley was sacked along with three other non-executive directors from NI Water in March 2010.
Mr Murphy removed them from the board following an independent review team investigation into the awarding of contracts.
A subsequent Stormont Public Accounts Committee report into procurement and performance at the company was said to have criticised the earlier inquiry and questioned its independence.
Reckless
Mr Gormley emphatically denied any wrongdoing.
He issued libel proceedings against Sinn Fein and two of its representatives, MLA Cathal Boylan and former Assemblyman Willie Clarke, over the contents of press releases backing the decision to sack him.
Over the course of a ten-day hearing at the High Court in Belfast, his legal team claimed they damaged his reputation and were reckless, if not dishonest.
Lawyers for Sinn Fein contended, however, that neither statement contained any defamatory content.
They also claimed a defence of qualified privilege, arguing that the press releases were in response to a campaign of attacks on Mr Murphy mounted by the SDLP with Mr Gormley's collusion.
But a jury of five men and one woman found for Mr Gormley on the balance of probabilities.
They decided that both statements were defamatory and that the defendants were guilty of malice.
Mr Justice Gillen then rejected a final defence of qualified journalism, ruling that no steps had been taken to try to verify the contents of the press releases before publishing them.
"I'm satisfied that the press releases in question fell below the acceptable standards of journalistic approach," he said.