Hundreds attend Belfast peace vigil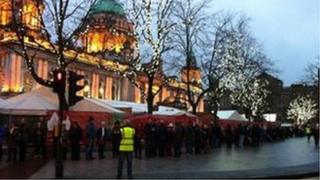 Several hundred people have linked arms to encircle Belfast City Hall during a five-minute prayer vigil in response to trouble over the past two weeks in Northern Ireland.
The event on Saturday morning was attended by several churchmen.
Organisers said afterwards that they were delighted with the turn-out.
They said that it sent out a powerful message that people supported peace.
A whistle sounded to begin and end the short vigil.
Andrew Masters, who was one of the organisers, said: "The last 10 days have reminded us that while we have come so far we still have a journey ahead of us.
"We wanted to do something really positive and just pray for peace and hope."
The former Methodist Church president Harold Good, who witnessed IRA decommissioning in 2005, was one of several clergy who attended.
He said the time for ending street protests had "long past".
"There must be another way of sitting down to talk about where these feelings and fears have come from," he added.
"The last thing we must do is manipulate them and exploit them and I fear that has been happening."
Up to 1,000 loyalist demonstrators staged a protest in Belfast city centre on Saturday afternoon.
It was a repeat of a demonstration last Saturday against Belfast City Council's decision to reduce the number of days it flies the Union flag at the city hall.
The protest began around 13:00 GMT and has now ended.
Protesters with flags and banners blocked the road in front of the city hall, despite earlier police appeals to keep it clear, but the protest was peaceful.
Earlier, a senior police officer said he had concerns that some elements may use loyalist protests on Saturday to engage in violent confrontation with his officers.
Assistant Chief Constable George Hamilton said people had the right to peacefully protest but violence and disorder were not acceptable.
He appealed for those with influence in the community to work with protesters to ease tensions.
So far, 40 people have been arrested in connection with disorder surrounding the decision to restrict the flying of the union flag at Belfast City Hall.
According to the Police Service of Northern Ireland, 28 of them have been charged with a range of offences, including rioting, disorderly behaviour, resisting arrest and assault on police.
Nearly 30 officers have been injured during outbreaks of violence across Northern Ireland.
Following Saturday's protest, Progressive Unionist Party leader Billy Hutchinson claimed the flag decision was illegal and hinted at a development in the days ahead.
"We believe that there were illegal actions taken," he said.
"I'm not going to make promises to anybody, what I'm saying is that we're going to try to put the flag back.
"I want to be very careful about this I don't want to lead people up the wrong road but the idea is that it might be back, but we'll have to see."