End flag protests say Peter Robinson and Martin McGuinness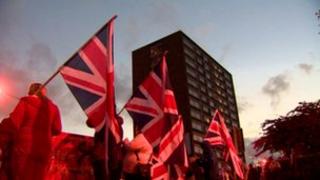 Northern Ireland's party leaders are to meet to discuss the latest protests over the union flag.
The first and deputy first ministers met on Monday 17 December and agreed to call the all-party meeting for Tuesday, or Wednesday.
Peter Robinson and Martin McGuinness also issued a joint statement calling for the protests to stop.
They began on 3 December after Belfast City Council voted to only fly the flag on designated days at the city hall.
Violence has flared following some of the the protests.
In their statement, the ministers said the protests were disrupting people's lives.
"We recognise and support the right to peaceful protest but the way forward is through dialogue," they said.
"The current protests are damaging Christmas trade and the local economy as well as disrupting peoples' daily lives.
"An absence of street protests would provide the space to allow us all to work together to find an agreed solution."
BBC Northern Ireland's Political Editor, Mark Devenport, quoted a source close to Martin McGuinness who said the Deputy First Minister was firmly of the opinion that the UVF (Ulster Volunteer Force) was behind the protests and had been stoking up tensions on the streets.
Meanwhile, a senior police officer has appealed to protesters, "to consider how their actions are affecting the wider community".
Assistant Chief Constable Dave Jones said the week was "one of the busiest of the year in Northern Ireland's commercial and social calendar".
"We will continue to have sufficient resources in place to deal with this activity and will endeavour to keep disruption to a minimum," he added.
At least 29 police officers have been injured and 40 people arrested as a result of protest-related violence.
A number of politicians have also received death threats.
Two peace vigils were held at city hall at the weekend.
On Saturday, several hundred people linked arms to encircle the building for a five-minute prayer vigil.
On Sunday, crowd of about 1,200 clapped, cheered, blew horns and banged drums for five minutes.