Santa seeks help: Limavady police 'want to find out who's naughty and nice'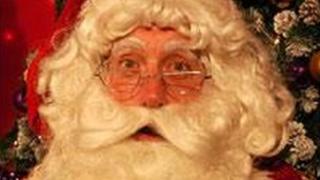 Police in County Londonderry have appealed for help in drawing up Santa's naughty and nice lists.
Limavady PSNI have used social media to pass on the request from "a gentleman who resides in the North Pole".
Facebook friends of the police were invited to nominate themselves for the 'nice' list.
"We have the naughty list sorted, but we don't seem to keep any records for nice people," they said. Hundreds have clicked the 'like' button.
Suggestions that Santa's robin was no longer up to the job of keeping an eye on the children of the town have been rejected by a local police spokeswoman.
The redbreasted garden bird is traditionally tasked with gathering intelligence for the Santa lists in many parts of the world.
"We're trying to make sure the young people of Limavady are behaving themselves," the spokeswoman added.
Northern Ireland's police have been making increasing use of social media to promote campaigns such as Christmas drink-driving, and to draw attention to specific local problems such as road closures, scams or burglaries.