Businesses say protests damaging Northern Ireland's reputation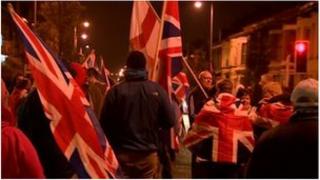 A Wexford coach owner has said he would be reluctant to return to Belfast while violence linked to the restrictions on flying the union flag at city hall continues.
John Kehoe was speaking after one of his coaches was damaged after trouble broke out in Sandy Row in south Belfast on Monday evening.
The driver and guests were staying in the Days Hotel near Belfast city centre.
"We're a small family run company in Wexford so it was distressing to receive a call from the PSNI late at night and not know how much damage was done," he said.
"Two side windows were smashed and petrol bombs thrown in - thankfully they did not ignite."
He managed to contact the driver who moved the bus from outside the hotel up to a local Ulsterbus depot.
"At the end of the day you can replace a bit of glass, or a bus, maybe at some cost, but the fact that nobody was injured is more important," he said.
"It was distressing for the driver and passengers - they had travelled up from a credit union in Enniscorthy to attend an event at Jordanstown - thankfully I was able to find a Belfast coach company who could take them there.
Mr Kehoe said his company made about six or seven trips to Northern Ireland each year but would think twice before returning.
"As a small company we'd be reluctant , I won't say we won't but we'd be reluctant to send coaches back to Belfast again until thing settle down a lot - I thought trouble like that was all done away with years ago," he said.
"It's not going to be good for Northern Ireland or Belfast if people from the south are going to be reluctant to travel with their coaches.
"The coaching community is small in southern Ireland and word of this incident will probably fly around the place - it was on local radio down here."
Celebrity chef Michael Deane said the city was "being held to ransom" and would result in some businesses closing because they had lost out on vital Christmas trade.
"Brand Northern Ireland is in complete tatters, in complete disarray with no support whatsoever," he said.
He said that government had to act.
"I've stood in this city for 20 years, I've put every penny I've had into this," he said.
"I'd like to ask the government if they have done the same thing. I worked 24 hours a day and put in every penny into my city and for what? Here we are staring into Pandora's box."
Kathleen, a taxi driver from Limavady, was carrying urgent blood samples from the Causeway Hospital in Coleraine to the Royal and City hospitals in Belfast.
She told BBC Radio Ulster's Nolan Show that after successfully making a delivery to the Royal, she was told by a protester at Broadway roundabout "We're letting nobody through" - despite her showing the blood samples in the bag.
It took her two hours to get to the City hospital.
"That was two hours and I was sitting with a blood sample from a sick patient in Coleraine," she added.
There have been protests across Northern Ireland since Belfast councillors voted two weeks ago.
There were about 80 separate protests on Monday.
There was trouble in parts of Belfast, Lisburn, Carrickfergus and Portadown.