My memorable year: Noel Molloy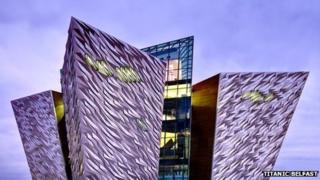 Noel Molloy was the project manager of Titanic Belfast, which opened at the end of March.
The £97m building is in the same spot where the famous ship was built by Harland and Wolff more than 100 years ago.
Titanic went down on 15 April 1912, leaving more than 1,500 people dead.
Mr Molloy, from County Offaly, oversaw the building of the new centre, and feels extremely proud of everyone involved.
It opened 100 years to the day from the day Titanic left Belfast.
"We were not allowed to think about not making the deadline," he said.
"We knew we had to do everything within our power to make that deadline. We had the confidence we could deliver it.
"I was very proud of the work that everybody had done there since 2008 and even those people for years before that who championed the project.
"But from 2008 when it became signed off by the assembly and executive and received the full support there, from that day onwards everybody put their soul into it and really worked fantastically.
"I'm really proud of all the nearly 2,000 workers who worked on the site and hundreds of designers and various project managers and people that worked in factories throughout Northern Ireland, in the UK and Ireland that had put their effort in.
"It is similar to the way people 100 years ago all said that they had helped to build the Titanic itself - people will be proud in years to come to say that they had actually been involved in building Titanic Belfast.
"When it opened, it was one of the proudest moments in my career. It was a celebration of the fantastic work that had gone on 100 years ago.
"It was a sense of relief that we had delivered everything that we had to deliver for the people of Belfast, for the wider community, and everybody else.
"We'll never get to work on a project like that again. If we do we'll have been lucky twice.
"But such a magnificent building, a fantastic exhibition, a fantastic banqueting space, very complex for construction professionals. It's the cream to be involved in.
"I often call down, it's hard to stay away from it. I still know the people involved in the running of it. They are doing a fantastic job. I'm just delighted in its success.
"I will remember 2012 as an accumulation of four years of hard work with some fantastic people who really got in behind the project and helped to deliver, what I believe is, something fantastic and truly unique."